Freelancer Value Proposition
6 Ways To Win As A Modern Freelancer
Written by: Flexing It
5/10/2023
5 minutes read
30
0 shares
The freelancing world offers incredible opportunities for those seeking independent and flexible careers. But freelance consultants must realise it's a super-competitive world out there, and strategy is everything in winning in the ever-changing terrain.
Let's dive in and discover six ways to win as a modern freelancer, all backed by insights from the industry.
1. Embrace Specialisation
Clients usually lean towards experts in their respective fields. Specialists also often get to charge higher rates for their world. In most cases, freelancers who dive deep into a specific niche tend to outshine their more generalist peers.
In the Professional Gig Economy Trends in FY23 Report by Flexing It, we also found that super-specialised skills are the key trend this year.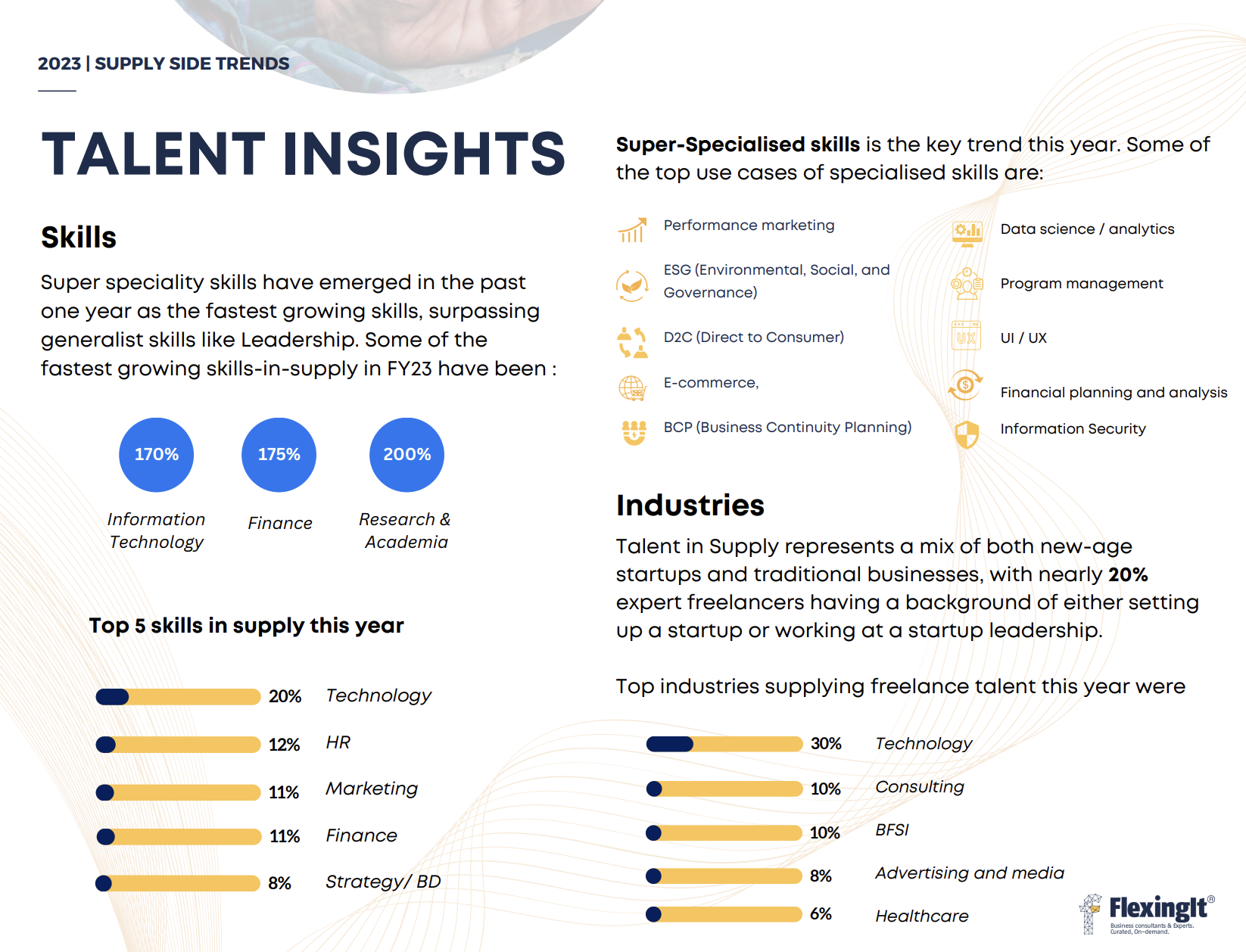 2. Craft a Solid Digital Portfolio
Having a compelling online presence is non-negotiable for freelancers. Your online portfolio serves as your resume and sales pitch combined.
However, it's more complicated. Ideally, your portfolio should have some, if not all, from the list below:
Profile Summary: An engaging introduction summarising your skills, expertise and experience.
Best Work: Include projects that highlight your skills and achievements. Each project should have its description, images, videos or links to the data of your work.
Services: List your services and how clients can benefit from hiring you. Include pricing information if you're comfortable doing so.
Client List: Mention notable clients you have collaborated with. This builds credibility and trust.
Testimonials: Add client testimonials -include their names, designations and photos to lend authenticity.
Resume: Upload a downloadable version of your resume.
Contact Info: Include your email address, phone number, and links to your social media profiles or LinkedIn for clients to reach you easily. If you have a website, add a contact form.
Call-to-Action: Sometimes, readers may miss out on engaging with you because of undefined or vague CTA. Place actionable CTAs strategically throughout your portfolio.
3. Include Case Studies
For more in-depth presentations of your work, include case studies that explain your approach, challenges you have overcome, and results achieved for specific projects. Incorporate quantifiable results or metrics wherever applicable. Make it easy to digest so prospects from various backgrounds understand your magic and connect with you immediately.
4. Work with Worktech Platforms
While there are many such consulting and freelancer platforms online, use your time judiciously and sign up where there are genuine project listings, transparent payment processing, contracting and networking opportunities. Freelance consulting platforms like Flexing It connect you with over 3000 clients (From large corporates to well-funded startups) while providing all the services shared above. Access a steady stream of clients and streamline administrative tasks now: Join as a Freelancer.
5. Become a Time Management Maestro
According to Payoneer's 'The Freelancer Income Survey,' - "over 80% of freelancers work on 1-3 projects at any time." Efficient time management is essential for freelancers juggling multiple projects and maintaining work-life balance. Use tools like Toggl and RescueTime to help track hours and increase productivity.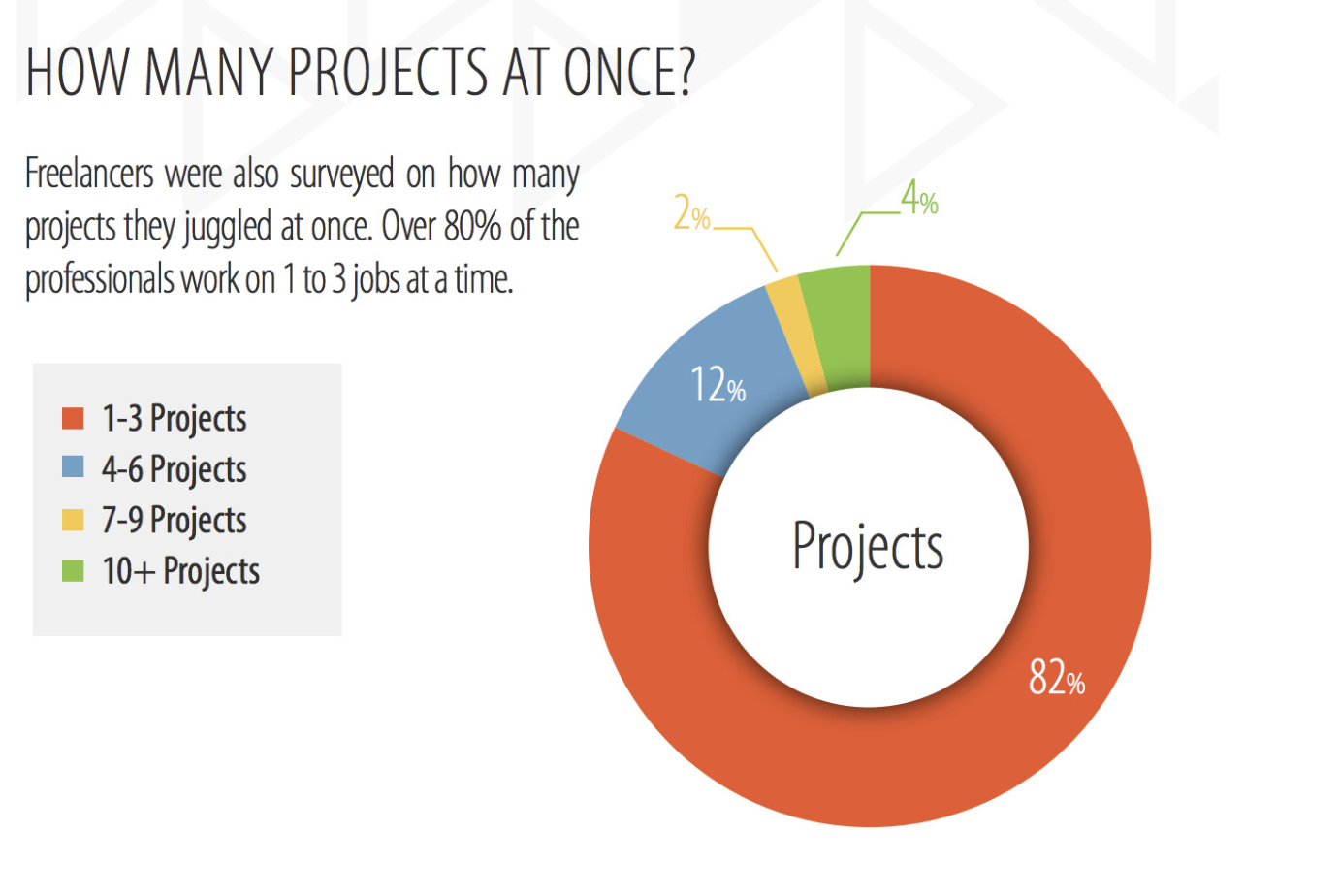 Image source - Payoneer Blog
6. Be a Thought Leader
Position yourself as a thought leader in your niche by sharing valuable insights and knowledge through blogs, webinars, or speaking engagements. A study by LinkedIn and Edelman found that 48% of decision-makers (clients) engage with thought leadership content for at least an hour weekly. Believe that thought leadership content could enhance more freelance opportunities for you. Share your unique insights and refrain from posting vanilla or irrelevant content that will not attract the right clients!
Image source - Edelman and LinkedIn Study
Freelance consultants must realize that opportunities come with a strategy. To thrive in this ever-evolving landscape, adapt, evolve and have a solid plan of action that sets you apart from the crowd on any freelance consulting platform!