Trends in freelancing
Flexing It™: Taking independent working mainstream
Written by: Chandrika Pasricha
26/10/2015
4 minutes read
17
0 shares
It was this time 3 years ago that we launched a very early, alpha version of Flexing It™, a marketplace for quality short-term, flexible skills. We believed strongly that work was set to change rapidly with a growing premium on flexibility, and decided to get a basic product out there and test the hypothesis.  Today as we take stock, the hypothesis stands confirmed, though a lot of effort is still needed to create awareness about this growing segment of work, and better organize it to extract its full potential.
Independent working, freelancing, project-based work is here to stay, and a change in how we all will work is expected to be one of this century's megatrends. A recent Kleiner Perkins report (Internet Trends Report 2015) showed that 34% of the US workforce is already freelancing and this is expected to cross 50% in the next decade. This is a huge, unmistakable shift. And one that in different degrees is taking place around the world including here in India. Technology is making work more productized and projectised, plus taking it on-line. Consulting is disrupting and moving towards smaller units of delivery that bring specialist expertise. There's a huge push for more flexible work structures driven by demands of professionals, and the risks increasingly inherent to businesses.
The trends we have seen at Flexing It™ confirm this too. We already have a pool of 12000+ consultants from functions as diverse as strategy consulting to marketing to HR to analytics and UI/UX that are making the choice to work on a project and/or part-time basis, and these numbers are growing rapidly. We have Corporate Freelancers who have gone independent after a long stint in large organisations; there are Young Parents who are looking to balance work with personal commitments; then there are Entrepreneur Freelancers who pick up projects to generate cash flows while nurturing a business and Professional Moonlighters who are looking to learn and earn through projects over and above their regular jobs. These are just a few segments of experienced, qualified men and women increasingly making the choice to work on their terms.
On the other side of the marketplace, we have 1000+ companies using the platform to find consultants, part-time resources and subject-matter experts on an 'as-needed; basis. High-growth startups to investors, industry leaders to consulting firms are opting to bring on board skilled professionals to deliver at the pace and intensity they need. This could be through short, intense projects to longer duration part-time support to remotely delivered assignments. I by no means want to suggest that company mindsets of 'work = full-time employees' have changed over-night. However, the conversation has started and more and more companies are realizing the value they can derive from consultants and flexible workers while remaining nimble.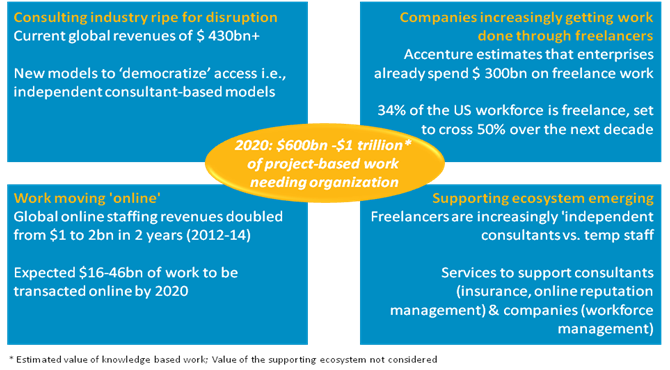 We at Flexing It™are therefore looking forward to the next few years with a lot of optimism – an estimated $1 trillion worth of knowledge projects will need to be organized and disinter-mediated and we want to be amongst the leaders doing that. To do that, we are scaling up our business development and marketing initiatives and aim to bring much larger numbers of projects to the platform in the coming months. Our strategic partnerships, with NASSCOM's 10,000 Startups and leading institutions like IIT Kanpur, ISB and Narsee Monjee are all steps towards delivering on this, and we will also be launching new products soon.  
On the product and technology front, we have added several critical features over the past few months to strengthen quality (feedback, background verification, fee calculator) and also matching through our patent-pending algorithm FlexScore™. We have also recently upgraded our platform in order to make search and navigation easier. The new site also highlights the type of skills and consultants we have on the platform as well as the top project-types in order to make the discovery process easier for both sides. 
We have also refreshed our branding. Our new logo emphasizes the idea of flexibility to shape one's career in a manner that works for you and leverages your knowledge. We have opted for a dynamic logo to highlight growth, learning and the fact that one's choices will change over time. Another critical element of the new branding is the concept of connections and networks which are critical to shaping a flexible career, and what we at Flexing It™ look to facilitate.
Finally, we'd like to thank our early users for their patience, support, and feedback. We hope to bring more projects, expertise, content, and tools – and at a much faster pace – for you as well as all the new members we hope to add to the community.